Simply fill out this short form, and we'll begin requesting quotes for you.
We'll send your request to a selection of our suppliers for them to provide a quote. Once quotes are available, you'll receive an email notification allowing you to compare your quote responses online. So, let us know what you need, and we'll do the rest, allowing you to carry on with your day.
And what's more, it's all completely free - no catches, we promise!
Got questions?
If you have any questions about this service or would like help to submit your quote request, please call our sourcing team on 0345 600 7177.
Why use Applegate?
Save time gathering prices from multiple suppliers
Compare prices quickly and easily
Do not overpay for PPE
Compare delivery times - receive PPE when you need it
And… It doesn't cost you a penny, we connect you directly to suppliers to buy your goods.
We're here to help for anything you need, including nitrile and vinyl gloves, Perspex screens, FFP2 masks and safety workwear to keep your business running safely. Complete the simple form and we'll source quotes from companies who can supply the products you require.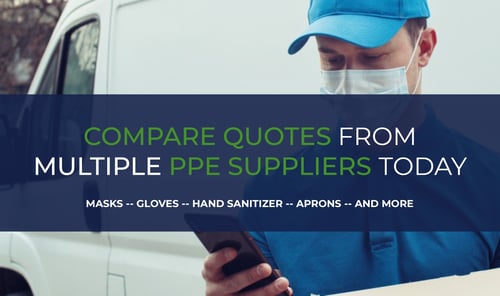 How we've helped during the COVID-19 Pandemic
We are really proud of the work we've done enabling the supply of hundreds of millions of items of PPE at a time when it was thought to be impossible, setting up a dedicated hub to assist in the supply and purchase of PPE.

We've been serving organisations from NHS Trusts to local authorities, care homes and restaurants, connecting them with suppliers that could fulfil their PPE needs. Where traditional supply chain processes had broken down, we were able to succeed.
Reported cases have thankfully been declining but the demand for PPE remains and suppliers on our site can provide pricing and equipment.
"We had been spending a great deal of time searching for PPE ourselves and getting nowhere; our usual suppliers had no stock, and other suppliers were not taking on any new customers. Using Applegate gave us access to a range of different suppliers and prices were readily available for us to make choices."

Scheme Barnstaple
"From early on in the COVID-19 crisis I have found Applegate to be very responsive to our need to secure PPE for our care homes. The two staff I've dealt with have been very efficient and timely in their support."
Andy Quinn, CEO
Father Hudson's Care Warwickshire
"We found the Applegate PPE sourcing facility such a help in very challenging times. Using Applegate gave us access to range of different suppliers."
Helen
Norah Bellot Court
"It's only thanks to your supply that our staff here can continue to look after our patients during Covid 19."
Stephen Roberts, Chief Executive
North Devon Hospice